Local Search Engine Optimisation/SEO is all about increasing search visibility for businesses that serve their local communities. So, why is local search important? Because 45% of all Google searches are for local businesses.
In recent study undertaken it showed that 96% of people use their mobile devices to perform local searches – out of which 61% called, and 59% visited the business.
In another Local SEO study it reported that 88% of searches for local businesses on a mobile device either call or visit the business within 24 hours.
These firm statistics should be enough to make you look at your Local SEO strategy a little closer.
Let's look at what defines a Lead?
A lead, in marketing, is a potential customer or a business opportunity – a prospect. A lead generation process is usually an automated process that involves
( i ) lead capturing or obtaining personal contact information,
( ii ) lead qualification or confirming that the person could be interested or can be served by you,
( iii ) lead nurturing or developing a rapport with your identified leads, and finally
( iv ) lead engagement or the actual sales.
A popularly cited "SEO & Lead Generation" study looked at the attribution of direct traffic, search engines, and web referrals and these were found to be the hottest online lead generation channels mounting up to 93% of all effective leads.
But despite the considerable SEO growth in the past decade and the COVID-19 pandemic rendering local SEO extremely powerful, not many SEO experts are giving away the fact that local SEO is an important lead generation strategy (or at least turfing you unless you pay for webinars).
In the SEO world, anyone who is anyone uses local SEO as their prime pilar in their business lead generation strategy. In this latest "The Edit" blog article we are going to explore "why local SEO is an important strategy to implement for lead generation for your brand and we are going to explore some key takeaways you can implement within your business.
Local SEO is an underrated, unidentified strategy
Google Local Statistics reveals that 97% of users searched online to find a local business. Again, 54% of these users make these searches at least once a month. At least 12% of the user searches a day are regarding local businesses. As for the UK, "near me" searches have grown in just the past 12 months remarkably.


If you want to turn these leads into *your* converting customers, our advice would be to start focusing your attention on your local SEO efforts. These "near me" statistics are even more encouraging as to the reasons why your business should explore local SEO when you break down the results for the UK sub-regions.


So… how does Local SEO help to generate leads?
Although you have a local website only updated local strategies will help you generate the expected number and quality of leads. This is achieved by getting users searching for something similar to you to click on your links and funneling them into the lead engagement.
( 1 ) Local SEO helps you study your target market
Unlike (still!) popular belief, SEO is not the craft of misleading people into spending their fortune for no purpose; it is not a magic mushroom of siphoning money from internet users' pockets into business funds; it is but the art of identifying who might be interested, making them interested, and catering to the right audiences. Local SEO, specifically, helps you use the knowledge of statistics, numbers, user intent, and local interests to generate leads.
( 2 ) Help is a Lead Generator
Offering solutions to consumers is a saintly, irreproachable, but often forgotten way to build genuine trust. This may involve everything from helpful content to offering (possibly customisable) beneficial features to them – all the more when you want local SEO to generate and convert leads.
Did you know that about 90.63% of content spanning over a billion web pages get no traffic from Google?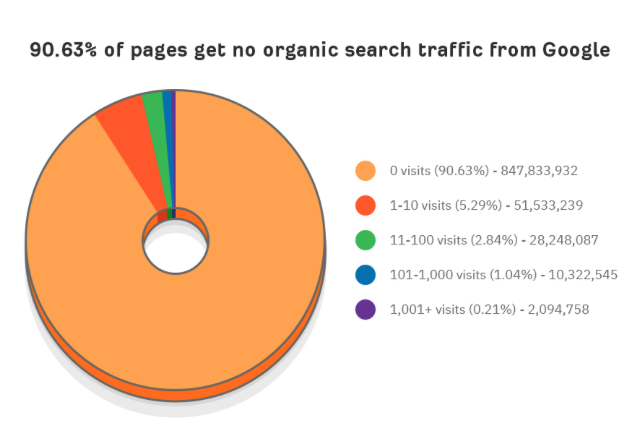 The reasons? Lack of backlinks, poor topics, and content that does not satisfy the queries! Being helpful and meaningful is extremely important while creating local content as are many other factors.
( 3 ) Keyword research and SERP rankings
Remember lead capturing? Competent keywords targeted at a local audience will extract clients for you from every nook and cranny. SEO will also help in placing keywords skilfully so that users searching for something is directed well towards the services and content you offer. Local SEO offers better results by making your website ready for local search engine traffic.
It is also worth noting that technical SEO alone can become too mechanical if it does not consider appealing to the audience. Prudent use of local SEO would involve using feedback data to improve content. Constantly updating and editing your content as per recent changes and trends is just as important as making new content.
( 4 ) Links and Web Referrals
Again, just as building locally relevant links is important, double-checking each time to make sure that all the existing links are working is crucial.
( 5 ) Mobile phones are always on, so should mobile UX be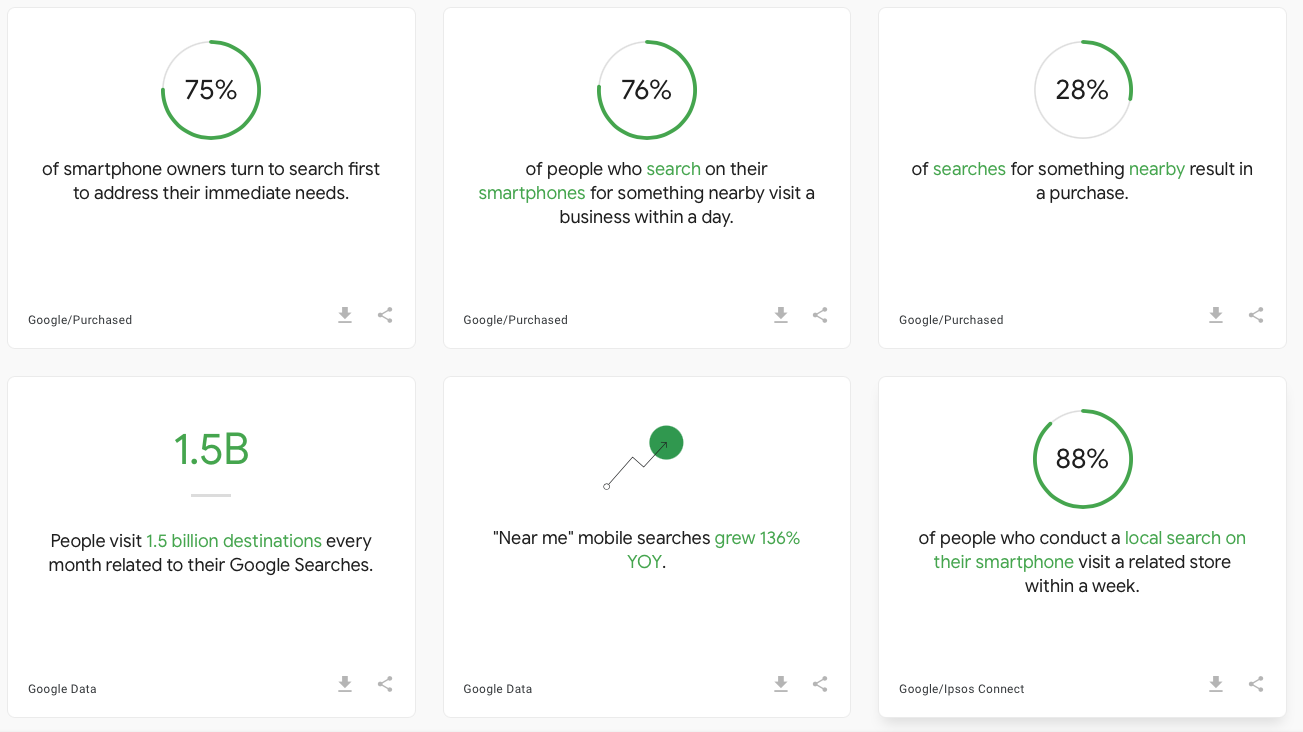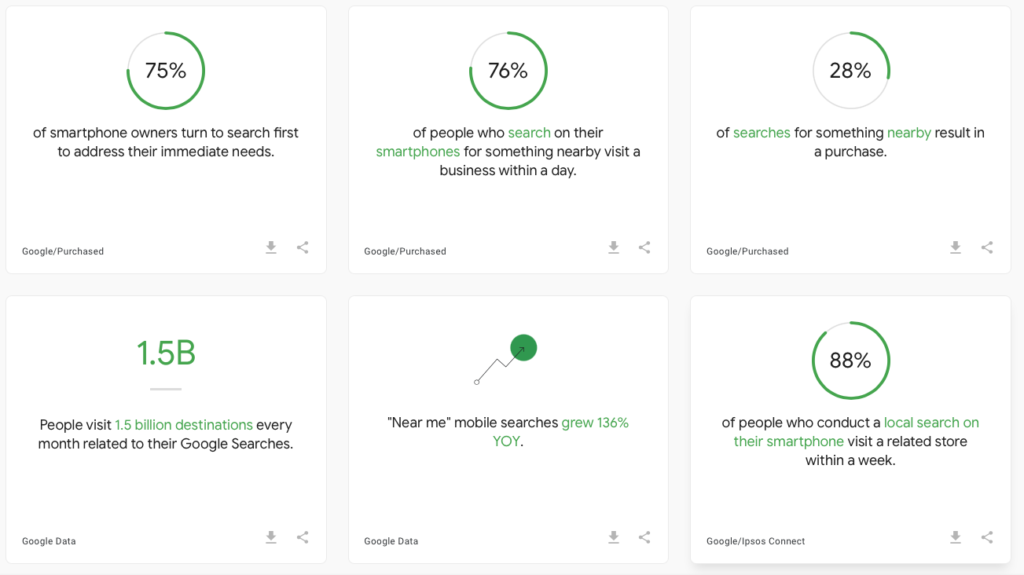 The stats shown above are from Google data and recommends that your websites should be mobile friendly and that if you have a mobile app it should be locally optimised. Only then will mobile phone users can be readily converted into sales leads.
Local SEO will convert visitors into Leads and Sales
Let us now embrace the elephant in the room and use local SEO to siphon powerful lead generation channels. Local SEO is one of those business investments that bring about results rapidly and will go a long way. Local customers when nurtured well are the most loyal customers  you will have.
Local SEO will help you to build authority in your niche as more and more people tend to recommend you to more local leads. You can get to us through the many channels we have on our website to harness the powers of local SEO for a business growth spurt.
If your business has a strong local customer base or wants to expand and grow upon this, then Local SEO can definitely benefit your business.
Implementing a local SEO strategy will mean expanding out your services and reach and tapping into more people/prospects from outside your local area and all by using Local SEO.
This is highly relevant for businesses in the catering or hospitality industry, where by "non-local visitors" may search from outside of your normal catchment area to visit your establishment.
What type of businesses would benefit from Local SEO?
Hospitality: hotels, restaurants, café, bars
Medical practices: doctors, dentists, clinics
Law firms: solicitors, barristers
Local B2C Services: florists, plumbers, electricians, hair salons & barbers, accountants, gyms, personal trainers and fitness centres etc
Local Manufacturers & suppliers
Are you ready to explore the benefits of Local SEO?
Then use the form below to get in touch with our team and one of our local SEO experts will be in touch.