Online shopping has become a whole new ballgame with billions more pouring into online websites to shop for everything from groceries to furniture to advanced machinery and all kinds of services. While the trend presents an amazing opportunity for e-commerce, e-commerce platforms, as well as advertisers, the level of competition in any niche of online business is on an exponential rise too, as might be expected.
While more customers coming in is a good thing, the catch here is that Google had set new constraints on cookies and identifiers in August 2020 – restrictions that would affect how well businesses can understand customer journeys.
But, after 5 more minutes of reading on, you can draw the ball back in your court, with all of your potential customers, your competitors, and even potential competitors on the other side, waiting for your gravitating move.
Our prime goal now should be to obtain critical insights on campaign performance; albeit respecting user privacy and consent choices.
What is Google Consent Mode?
Consent Mode is Google's Analytics, Data Privacy and Security mode that will help you keep a watch on the behaviour of your Google tags per the consent status and choices of your users. Even once the user has made their consent choices clear, your Google tags will only dynamically adapt and will only use the measurement tools for the specified purposes.
Google offers Consent Mode to help advertisers rejig the behaviour of Google Tags before and once the users have made consent decisions. Tag Manager and Tag Manager 360 can directly integrate with Consent Mode so you can easily incorporate and manage user consent into tag behaviour on your website. As of April 2021, Google Ads' Consent Mode would also work alongside Conversion modelling to compensate for the shortcomings of cookie consent choices.
This is on top of the already existing flexibility offered by the tag settings that use Global Site Tag and GTM features that help advertisers by managing cookies for advertising and analytics. So, on top of customizing Google Tag behaviour before and after the user inputs consent choices, advertisers can measure conversions better too.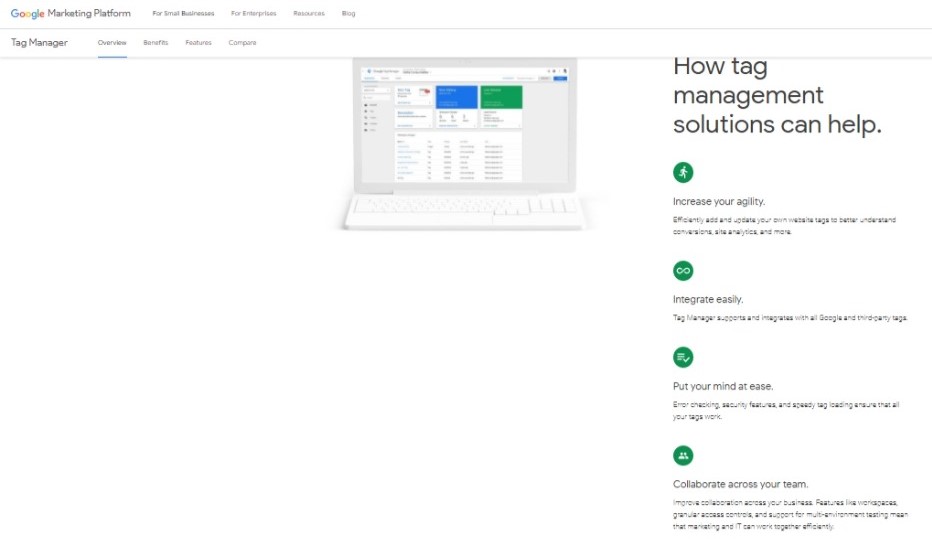 Consent mode practically lets you deal with legal and technological issues and changes like the pro you are.
How to best use Consent Mode for Google's ad platforms?
Advertisers can only optimise campaign bids by revamping budget plans as per performance, only if they can attribute the conversions to the exact campaign that drove them. This is crucial to advertising brands, all the more because the effectiveness of each element of a campaign depends on this factor – the X factor of advertising.
It is a great relief that Tag Manager, Tag Manager 360, and Consent Mode therewithal, provide better insight into conversion data. Further into the bargain, advertisers can also compare the consent choices of users for ads cookies with the specific Google tags that help them in measuring conversions.
Google Ads, Floodlight, and Google Analytics support Consent Mode, although consent mode for Google Ads might include Conversion Tracking and Remarketing until the beta version is sorted and proper – just as support for Phone Call Conversions is pending as per the Google Help Center for Data Privacy and Security and Consent Mode (beta).

The "ad_storage" tag setting
Conversion measurement and cookie behaviour for ads can be henceforth monitored using the "ad_storage" tag setting.
Google tags will readjust themselves instead and will not use cookies for their advertising algorithms unless the user provides the consent themselves. This would also mean that remarketing and such other optional features that rely on Google signals will be disabled as well.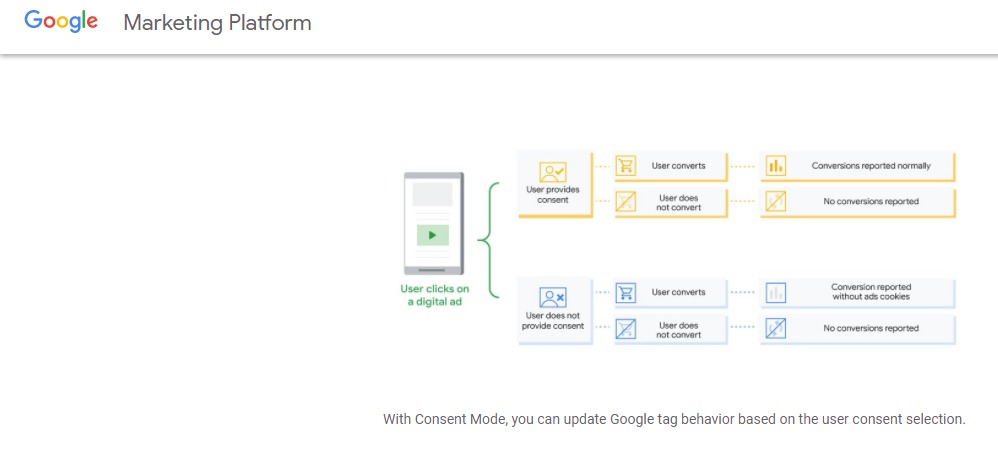 The "analytics_storage" tag setting
The "analytics_storage" tag setting in Consent Mode will allow advertisers to control the cookie usage of analytics better. You can now measure site behaviour and conversions in Analytics better.
But unless they provide the consent, Google says that ("analytics_storage: denied"), all data will be anonymised.
How do I Request Consent Choices while respecting Google Tag Manager?
Say, if the advertising and analytics needs of your brand demands you to collect your website user's consent for both analytics and ads cookies. The "ad_storage" and "analytics_storage" settings of Consent Mode can be employed to update and readjust Google tag behaviour each time. The Google tag behaviour will be transformed and adapted to the essence by the user's selection for each type of cookie.


Consent Management Platform Integrations
Businesses operating from the European Economic Area, the United Kingdom, or such other regions may need to collect user consent for certain operations. In cases as such, consent management solutions and a Consent Management Platforms are of utmost importance. Tag Manager is better integrated with the consent management solution of your choice too, if Tag Manager is managing the tags for your website.
Until a while ago, you must have been required to follow complex steps and actually make changes to your website's code.
But, Google has made new updates that make this integration impressively more convenient and have enforced them on May 27, 2021. Now, the consent management solutions are programmed such that they can use a new set of sandboxed (or isolated) JavaScript APIs that will work with Consent Mode to integrate new tag templates directly into the Community Template Gallery.
The May 2021 update also bring to bear a new trigger type called 'Consent Initialisation'. The new feature will fire the tags that trigger upon receiving the user consent choice before all your other tags.


The Google Help Center for Data Privacy and Security and Consent Mode beta version offers a table that explains how Consent Management Platforms have integrated with the Consent Mode in a more convenient manner.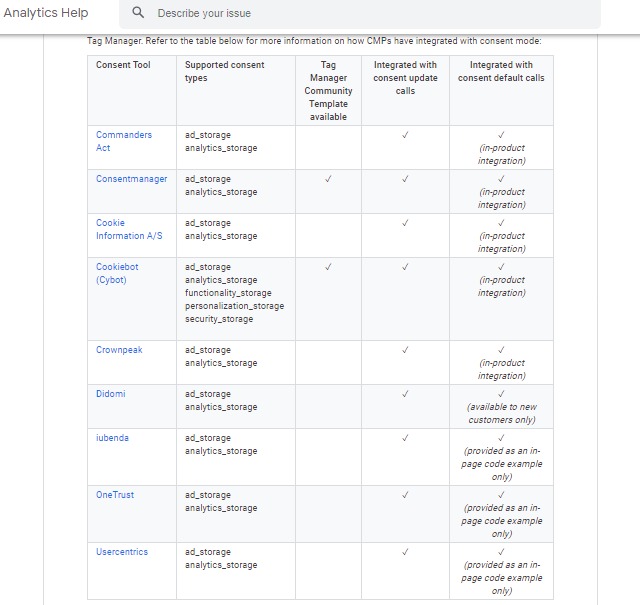 When to update tags behaviours with Global Technology Audit Guide (GTAG)?
There are two ways in which you can understand your user's consent choices or behaviour – either your website users will provide consent through interacting with a consent banner, or you figure their consent status out from a previous page load. In any case, you can update your tags behaviour with the gTag command.
How to configure consent-aware tag behaviour
( 1 ) In-page code may require you to call gTag commands such as 'consent' on each page of your website.
( 2 ) Configure consent in Tag Manager for Tag Manager Consent APIs.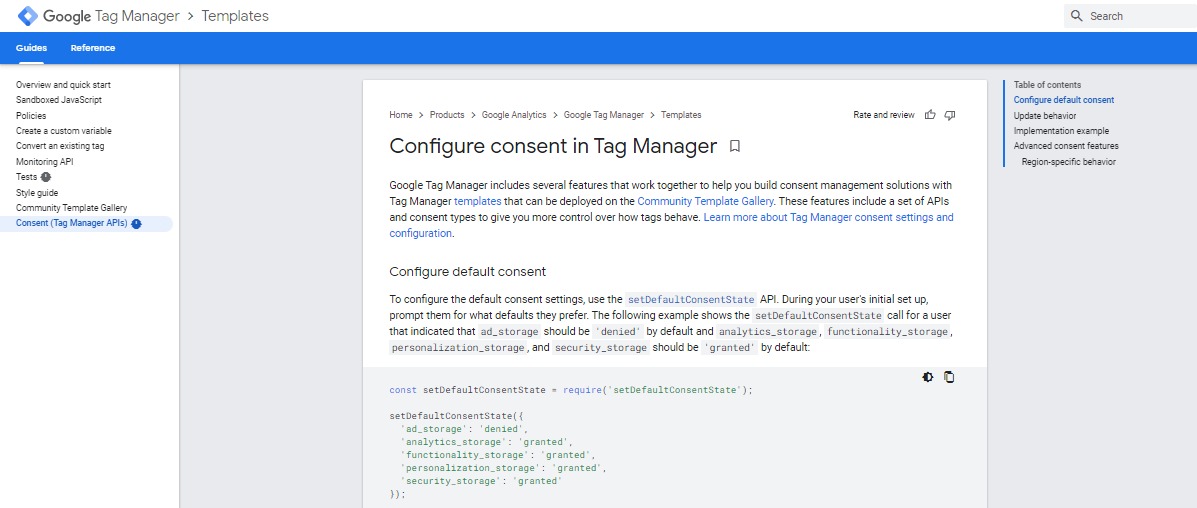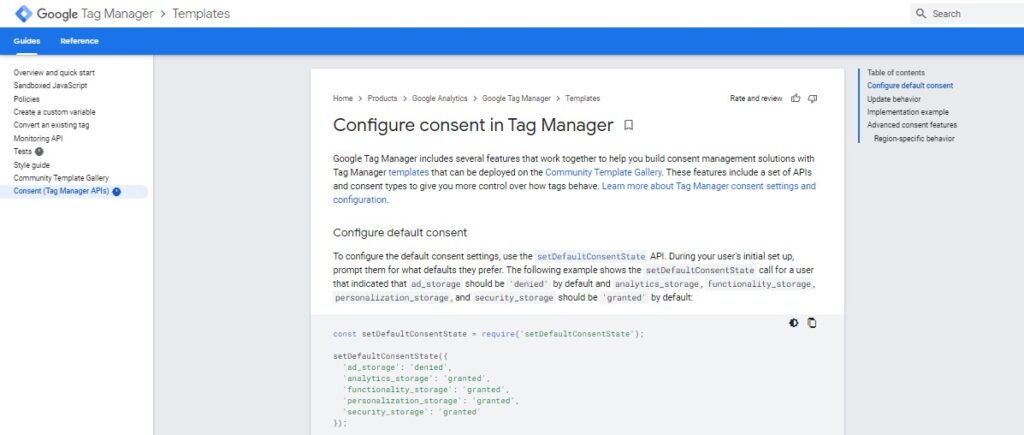 Adjustment of tag behaviour based on user consent status is supported by ( i ) Google Ads, ( ii ) Floodlight, ( iii ) Google Analytics, and ( iv ) Conversion Linker.
Reaping the fruits of Consent Mode and Consent Support on All Your Tags
Although Google has laid more stress on their policy that tags for all of their advertising and analytics products will henceforth respect consent choices for ads cookies and analytics cookies, many businesses still use a custom tag setup in Tag Manager. Websites may be employing this strategy to control the behaviour of other third-party tags or to understand other kinds of user consent; but if you ask me, I find that it is only harder to both set up and deal with.
Google has taken on board this fact too and now enables you to monitor and customise the tag settings for each of your tags. All the more, new consent types have been introduced into Tag Manager in light of this behaviour. This takes care of the consent types you have opted for using the consent management solution.
Now there is also more power to you since you can now understand the types of consent each of your tags requires to trigger. You simply need to specify if the tag would need any additional types of consent to fire.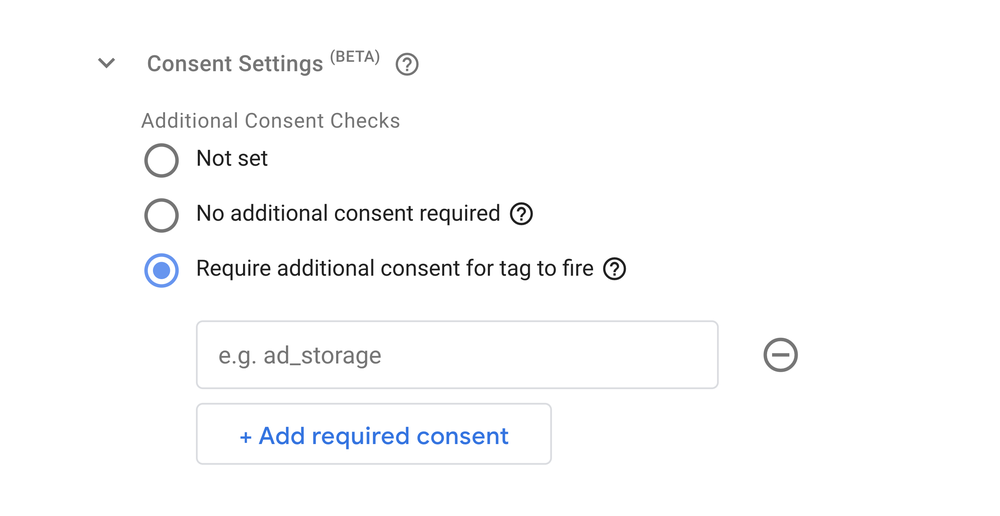 The new Consent Overview feature enables a complete bird's eye view that helps you monitor consent settings across the tags in your container better. You can get this view any time from the Tags screen, manage the consent setting altogether, and even add different consent types to multiple tags after you have enabled the feature.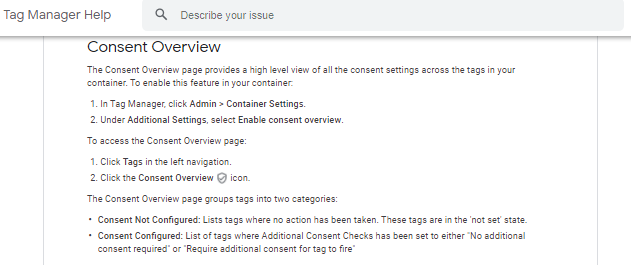 Google has allocated the features we just covered for all Google Tag Manager and Tag Manager 360 accounts. You need nothing more than the right knowledge and information, or at least someone with the proper skills to work for you to keep bettering your current (or previous) online measurement, while still respecting user consent behaviours and choices.
Get ahead of your competitors and stay that way, now that you know how not to panic and how to use the different Google updates to your advantage.