The Complete Guide To Registering Your Business On Apple Business Connect
Everything you need to know about getting your business listed on Apple Business Connect
Published February 3 2023
Move over Google Maps, Apple has announced that it is going to supercharge it's Apple Map listings with the roll out of Apple Business Connect to the USA (do not worry) the global roll out will be coming in a few months and the UK and Europe can benefit from the game changer for local brand and service awareness on Apple devices.


Are you looking to tap into the millions of iPhone users and grow your customer base through Apple Maps? Apple Business Connect simplifies the process of locating your business through Apple Maps. Empower your brand by customising the way it is perceived. Build a Place Card that is globally accessible to all Apple device users through integrated apps and services, complete with navigation, contact details, and call-to-actions (CTA's).
This latest guide on "The Complete Guide To Registering Your Business On Apple Business Connect" has been drafted by the team here at One9Seven6 is designed to help you take advantage of this valuable opportunity with Apple's recently launched Business Connect.
Apple Business Connect is quick and simple to set up, it is an extremely effective and powerful tool that allows you to claim and optimise your business locations, giving you complete control over your Place Cards on Apple Maps.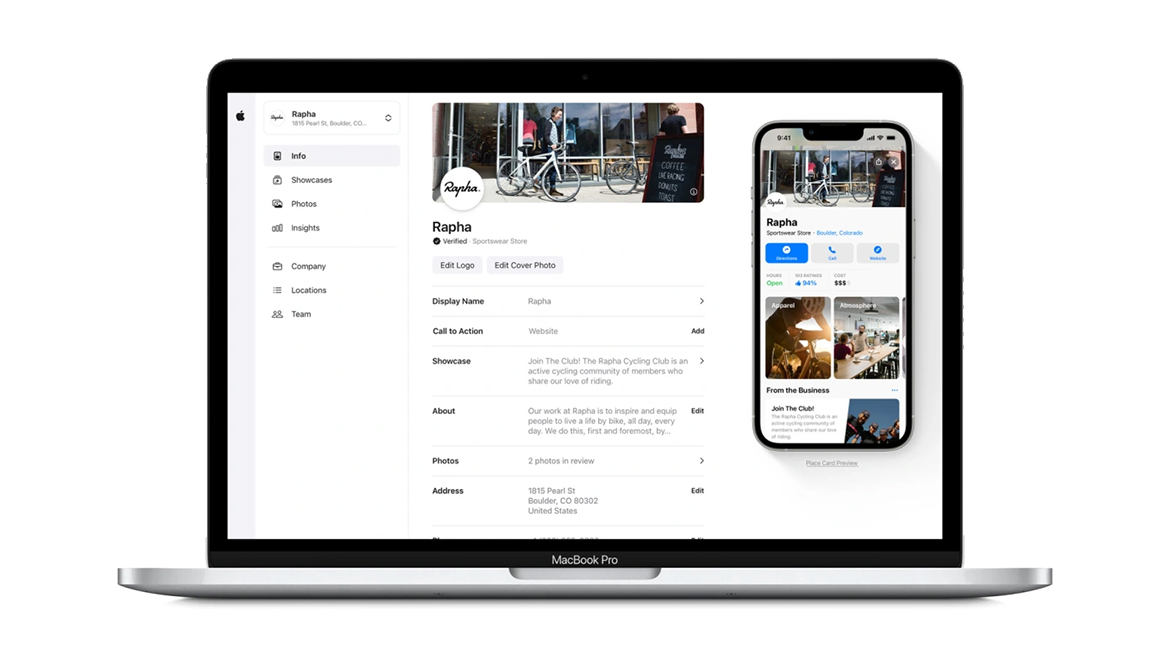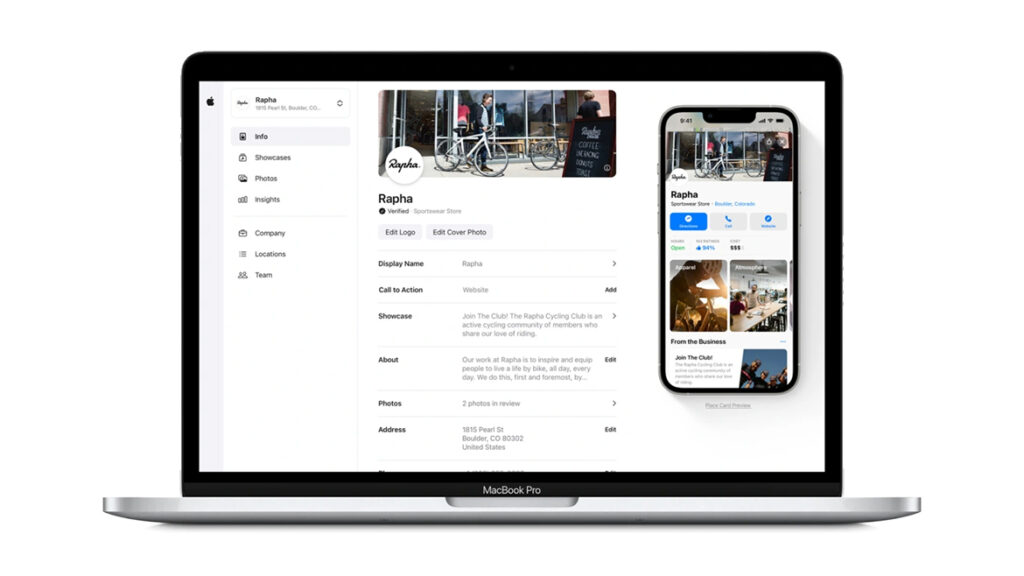 First Off Let's Cover Off Some Basics…
Apple Business Connect Terminology & Images
• Apple Business Definitions
Company
An enterprise with one or more businesses or brands
• Business
Locations owned by your company that operate under the same brand
• Location
A physical place of business
• Images
It is worthwhile ensuring you have a good selection of images to hand before starting this process, choose images that represent and showcase your brand well, along with outside shots (if needed) to make sure you business can be identified visually very quickly.

For Brands Utilising Third-Party Services: 
To take advantage of the powerful benefits of Apple's Business Connect, you must first set up and claim your first location. From there, you have the option to delegate your account to a trusted agency that can handle adding the remaining of your locations in an efficient and streamlined manner.
For Single and Small Businesses: 
Your first step to harnessing the power of Business Connect is to search for or create your location, providing easy access to the millions of iPhone users on Apple Maps.
For Enterprise Businesses: 
Get started with Business Connect by clicking the "Register as an Enterprise" prompt at the bottom of the page. This streamlined process is designed to help you optimise your locations and reach a wider audience of potential customers with ease. Contact us today to learn more about how we can help you take advantage of this valuable opportunity!
Please Note: Apple Business Connect Showcases are only available to businesses within the United States, but Apple is working to make these available globally in the coming months in 2023 (Date of article 2nd Feb 2023).
The 5 Easy Steps To Registering Your Business
Apple Business Connect Terminology
Steps 1
Sign in with the Apple ID you use for your business If your company uses managed Apple IDs, contact your company's IT department.
Tip – Don't have a dedicated business Apple ID? Create a NEW Apple ID here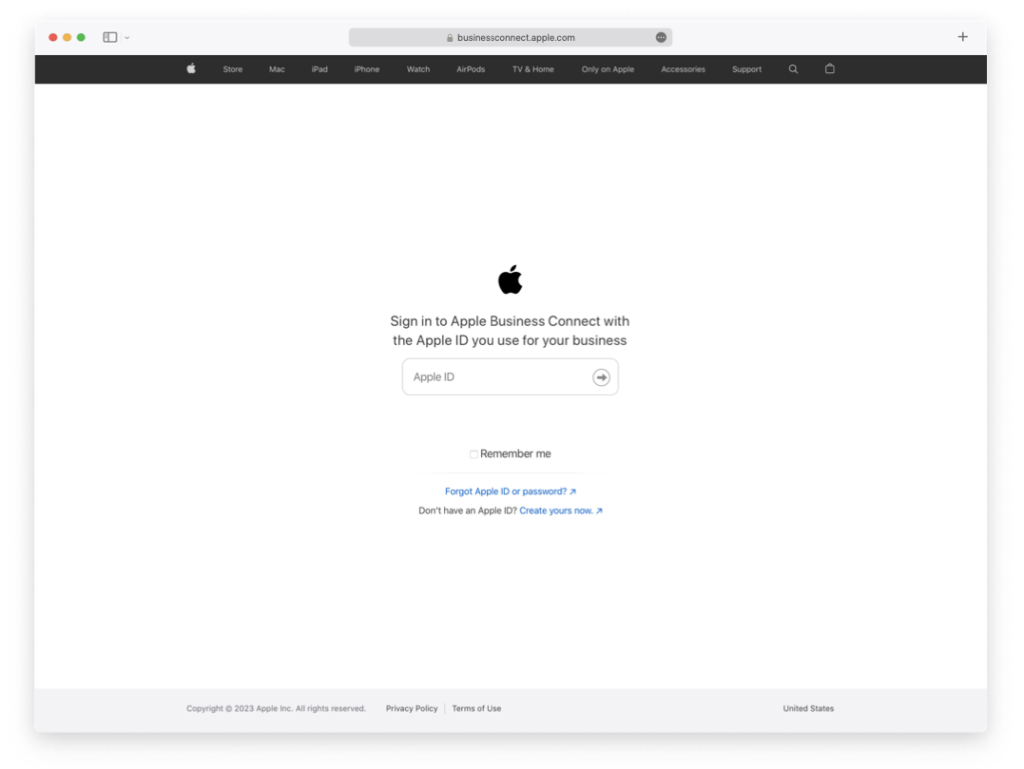 Steps 2
Add your company details – This information will be used to verify your company and won't be shown to customers.
• Legal Name
• Company's legal entity name
• Corporate Address
• Address associated with your company's headquarters
• Corporate Office Phone Number
• Main corporate line
• D-U-N-S Number – A 9-digit number associated with your company's legal entity. This can be found via lookup or ask your finance department.
• Website – The website associated with your company
Tip –  Need a Dun&Bradstreet D-U-N-S (Data Universal Numbering System) number? Here's How to Claim Your Company's D-U-N-S Number get it here.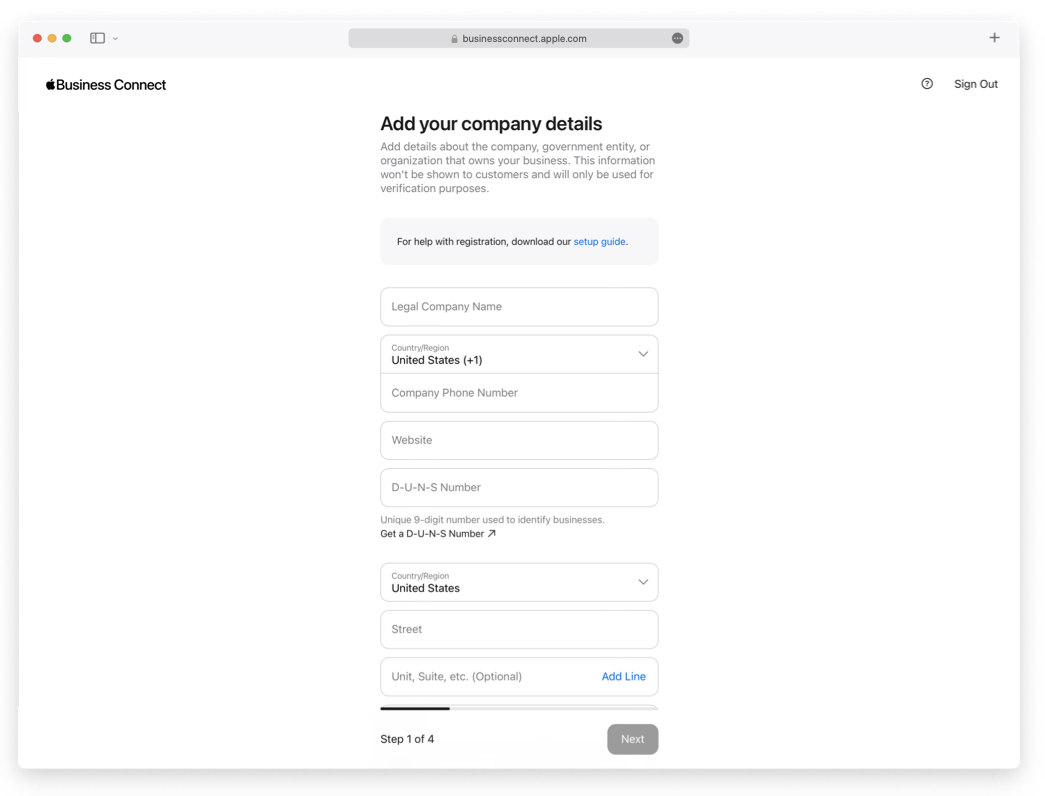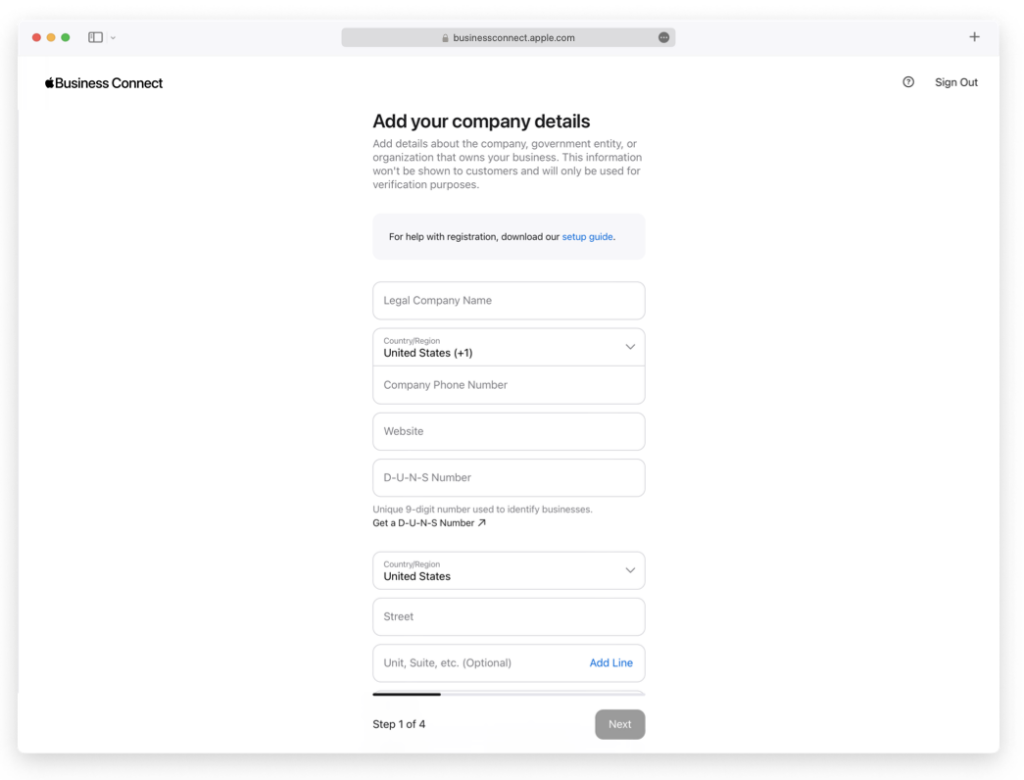 Steps 3
Add one of your businesses
Add a business that has locations that serve customers in a single country.
Business Name – This is the brand name that your locations share
Category – Be as specific as you can: it helps customers find you when they search
Website – May be different than your company's corporate website
Country – You will be able to create the same business in additional countries after onboarding
Tip – You can add additional businesses (brands) after you verify your company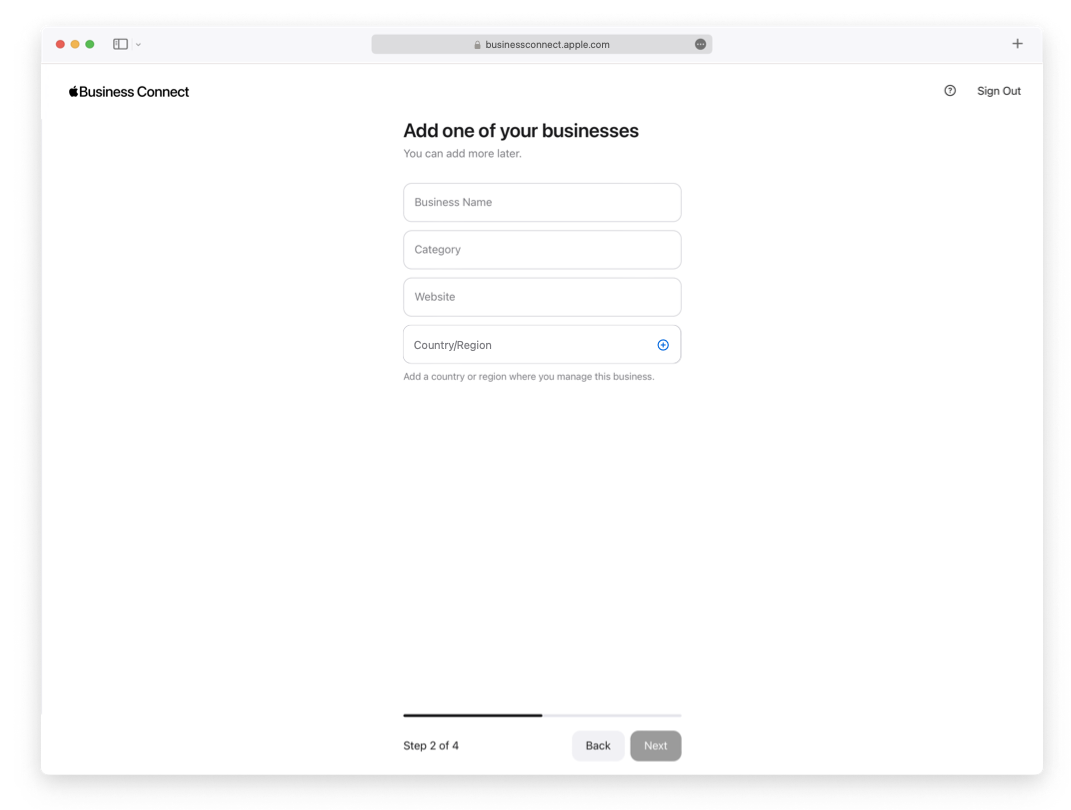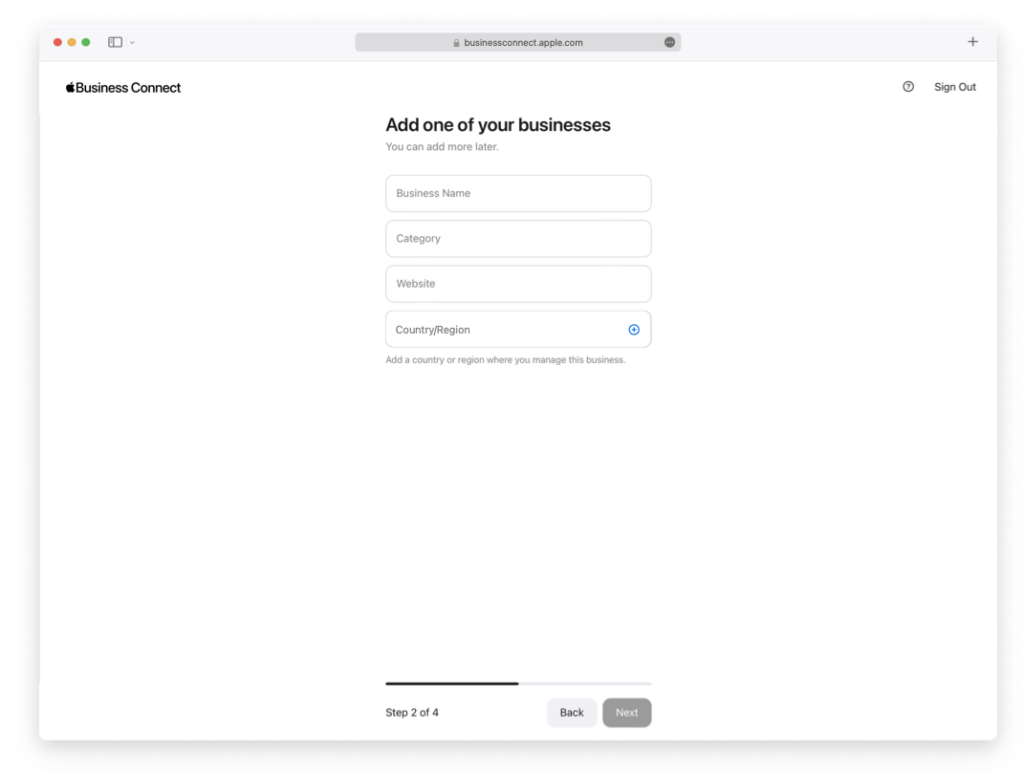 Steps 4

Verify your company (NOTE: Business Verification can take up to 5 days).
Help us verify that you represent your company.
Domain Validation
Host a TXT record on your company's DNS server Learn more here
Document Review
Submit documents such as business license or utility bill that show you represent this business
Ask a Coworker
Have a coworker upload the necessary documents to verify your company.
Once the verification has been completed, you can begin adding additional information to your Place Card including:
• A unique description of your business location.
• Attributes or additional features of your business. The types of attributes vary by business type but include categories such as:
• Payment options.
• Reservation types (appointment only, walk-ins).
• Accessibility features.
• Parking options.
• Restroom types and availability.
• Tech features (wi-fi and air conditioning).
• COVID-19 Testing and Vaccination options.
• Business Models (co-op, non-profit, membership requirements).
• Safety (cooling centre, COVID-19 precautions, sheltering).
• Smoking parameters.
• EV Charging availability.
• Atmosphere details (good for kids, couples, groups).
• What types of pets are or are not permitted.
• A link to an app that supports functions like ordering, making a reservation, or booking an appointment.
• Photos of your business including a logo and cover that will stay positioned at the top of your Place Card.
NOTE: Apple advises that photos will be reviewed and can take up to three days before publishing. You can find photo guidelines here. 
• Showcases to highlight timely updates, new features and products for your business. Showcases expire after 30 days unless you set it to end sooner and Apple can take up to three days to review and approve your showcase. Showcases include the following elements:
• A photo and an image tag (should be added for accessibility and screen readers).
• A short title of up to 38 characters.
• A description of the showcase of up to 58 characters.
• One or more calls to action, including:
• "Call Now"
• "Get Directions"
• "Website"
• "Share this Place"
• "Add to Favourites"
• "Rate this Place" – This allows users to provide feedback on overall rating, food and drink, customer service, and atmosphere. It also prompts a user to recommend this place to a friend or family member
Tip – Once your company is verified you can start managing it on Business Connect and share access with an agency.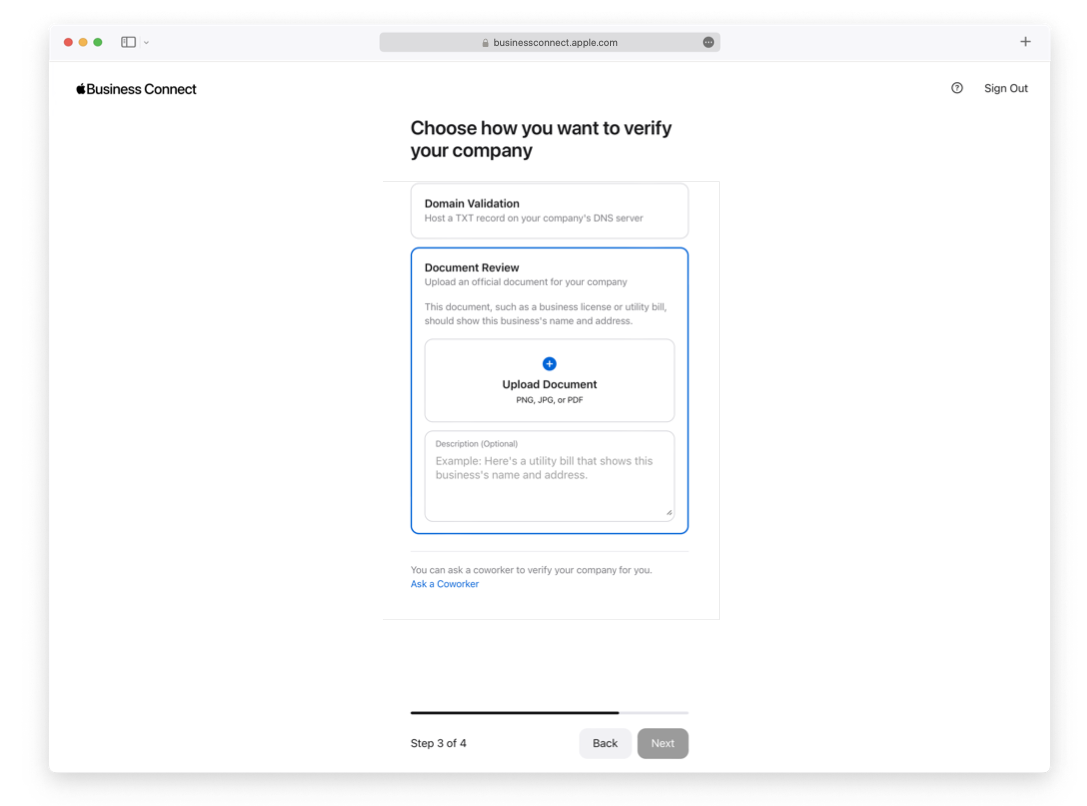 Steps 5


How to give an agency access

1. Click on your company name

2. Click on the Shared tab

3. Click Share Access

4. Enter your 3rd-party Partner's Organisation ID

5. Select Admin Role

6. Select All Businesses or a specific business

7. Click Invite


Tip – If you have an agency who helps manage your brands, ask them for their Business Connect Partner Organisation ID.
You will have to give agencies access every time you create a new business.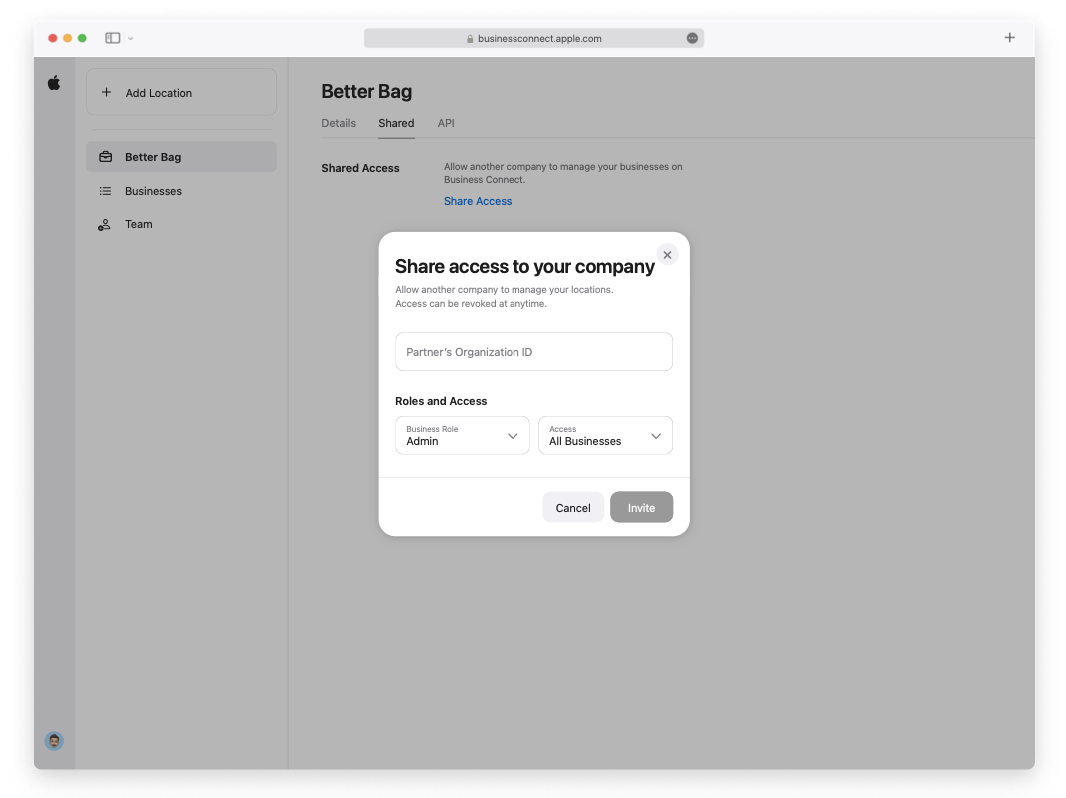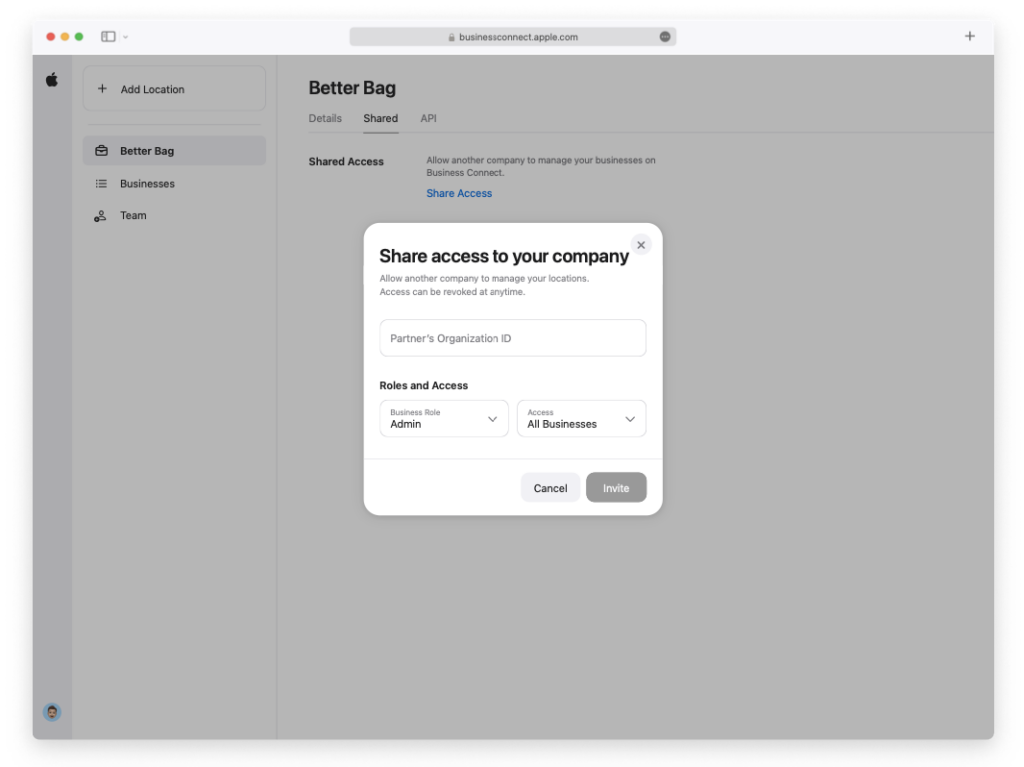 We hope that you found "The Complete Guide To Registering Your Business On Apple Business Connect" handy – please feel free to share this with other business owners to allow them to benefit from the latest development in Apple Marketing for businesses.