2021 Black Friday and Cyber Monday would practically mark the beginning of a Holiday Season that may be deemed the first proper post-covid yule. The Holiday Season of 2020 was chaos for marketers, as it was for the virus-fighting consumer world.
And while there is only about a fortnight left for the gauntlet situation of the 2021 Holiday Season, most marketers have switched to their holiday marketing mode – which is a mistake, because little do they know that we start at the fringes of their Holiday Marketing ideas' gamut.
These 2021 Black Friday and Cyber Monday marketing strategies are likely to sabotage our competitors' plans as we start with the benefit of 2020 holiday marketing hindsight, combined with historical data, feedback, and all the elbow room for gaining an upper hand. Let your marketing ideas for this holiday season be the last word.
What does Black Friday mean for Retailers in the UK?
Wondering how will Black Friday Marketing impact Holiday Sales Figures? The bygone fact that 2019 Black Friday was a trillion-dollar market catering hope globally is too big to ignore. But there is something more impressive – it was expected by the global retail markets too, statistically.
The estimated global retail sales figure is £18.48 trillion, while 2019 Black Friday retail sales touched £8.6 billion in the UK. Multiply the figures with the percentage of your market's average percentage of global or national sales, and you get the ceiling of your goals.
Nevertheless, Black Friday 2021 sales will be economically and strategically pivotal to UK retail. While e-commerce will have to do a better job at improving sales, brick-and-mortar retailers can prepare their websites and apps too as most local searches turn into visits.
Fool-proofing E-Commerce for Black Friday & Cyber Monday 2021
( 2 ) Optimising your website for search
( 3 ) Managing website traffic - Speed and Ease of Navigation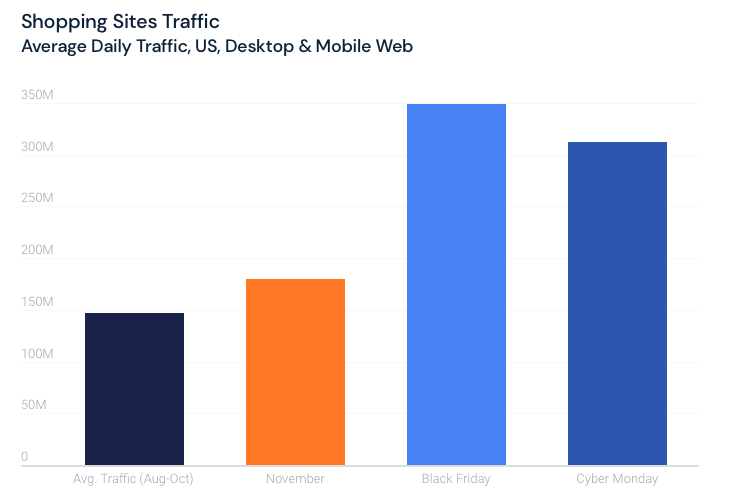 ( 4 ) Perfecting the Checkout process
Despite presenting the best load speeds, site navigation, products, prices, brands, reviews, and perks, some e-commerce websites make the mistake of lacking good customer service, especially at checkout, leaving all to pot. Cart abandonment is an e-commerce doom that happens when checkout is not as smooth as the rest of the experience.
Black Friday and Cyber Monday are times of hurry and although people love browsing to shop, the checkout point is not a place anybody is patient at – shopfront or online. One-click buying, dynamic checkout processes and better tie-up with your payment partner are all keys this holiday season.
E-Commerce marketing ideas for Black Friday & Cyber Monday (BFCM) 2021
Once you have readied your website for BFCM and holiday shopping traffic, you can cement your marketing tactics in place.
( 1 ) Acing website landing pages for better conversion rates
( 2 ) Persuade Product Wishlisting
Wishlists are both home to the hopes of the customer and more SEO power to marketers. Let me explain. When a customer creates and expands a wishlist on your website you get valuable insights regarding their preferences. All the more you can add them to your mailing lists, cross-sell and upsell, and even get them to sign-up or download your app for more benefits.
( 3 ) Holiday Combo Offers - cross-selling and upselling techniques
Now, what could be better than getting offered a knit hat to go with your baby's holiday jumper or tea-ware after you've bought your holiday tea batch? Like something fallen off the back of a lorry to your lap, certainly.
That is the psychology used by cross-selling and upselling tactics. They can be presented as limited offers, flash sales, product bundles, upgrades, and combos. You will see an increase in sales on an average of 20%. Employ a product recommendation engine for this holiday season and reap the benefits.
( 4 ) Harnessing the spending peak
You can amp up and manage your traffic by offering challenges and games in limited periods and on different holiday occasions. Spin games, challenges with relevant characters, objects and themes, and lucky draws are good examples. These challenges, unlike they seem, are traffic obstacles and redirectors that make the shopping time fun while making the consumers think of new things to buy – it's a total win-win.
( 6 ) Holiday Lead Capture and Nurture sequences
2020 surveys show that emailing is the most preferred marketing technique for the holiday season, followed by paid social, website personalisation, display ads, organic social, and other SEO methods.


( 7 ) One Cart Abandoned per person is millions of pounds lost
What is your Holiday Season 2021 marketing plan?
Believing you would not skip any of the tips we discussed, let us also plan our holiday season ad campaigns to lock the marketing game in our favour. We have got your back in Cambridge with any digital marketing service you can ask for.