What does Facebooks move to scrap the 28-day attribution model mean to you and your business if you run Facebook Ads
Facebook has announced that it's removing its 28-day attribution window option for Facebook ads, which will mean that advertisers will no longer be able to track direct actions based on their campaigns over a longer period.
Facebook's attribution models enable advertisers to measure specific responses to their campaigns, based on rules set by the advertiser.
Essentially, attribution models use specified touchpoints in your Facebook advertising process in order to provide
more specific insights
on your chosen response metric. This, in some ways, enables marketers to glean more info on the actual impact your ads have had, based on that focus element.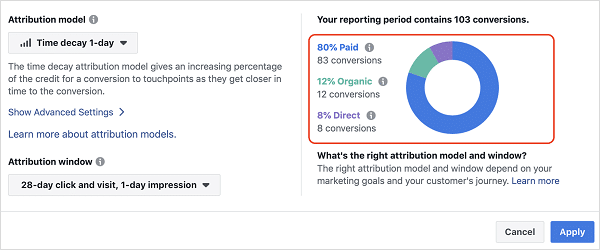 So, due to changes in data tracking policy, Facebook will no longer be able to offer a 28-day window, and will instead be limited to a 7-day overview of direct response performance.
The changes will take effect from October 12th, though all historical data will be available until that date. If you've used attribution models in the past, it may be worth downloading your data to keep track of historic performance.